Bengali Baingan Bhaja
by Bewild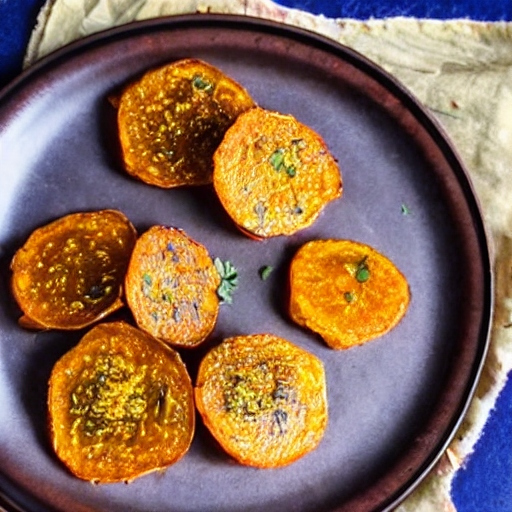 Crispy Bengali Delight: Baingan Bhaja
This vegetarian delicacy is often served as an appetiser or side dish and pairs well with a variety of main courses. With its unique blend of flavours and textures, Baingan Bhaja is a beloved dish that is sure to satisfy both eggplant lovers and sceptics alike. Brinjal contains antioxidants and phytonutrients that may help reduce the risk of heart disease and improve overall heart health.
Ingredients:
18 big brinjal (baingan / eggplant) slices
2 tsp chilli powder
1/2 tsp turmeric powder (haldi)
1 tbsp lemon juice
1/4 cup besan (bengal gram flour)
salt to taste
2 tsp oil for greasing and cooking
Cooking Time:
30 mins
Method:
To make baingan bhaja, combine the chilli powder, turmeric powder, lemon juice, besan, salt and 2 tbsp of water in a deep bowl and mix well.
Add the baingan slices and mix well. Keep aside.
Heat a non-stick tava (griddle), grease it with ½ tsp of oil, arrange half the baingan slices and cook using ½ tsp of oil on both the sides till golden brown in colour.
Repeat step 3 to make 1 more batch.
Serve the baingan bhaja immediately.
Health Benefits:
Eggplant slices that are high in dietary fiber, which helps promote digestive health and prevent constipation.
This dish is also a good source of vitamins and minerals such as vitamin C, potassium, and magnesium, which can help boost the immune system and support overall health.
Baingan Bhaja is a low-calorie dish that can be a healthy alternative to other fried snacks. Its antioxidant properties can help protect against cell damage and reduce the risk of chronic diseases such as heart disease and cancer.