Bhinda Ni Kadhi
by Bewild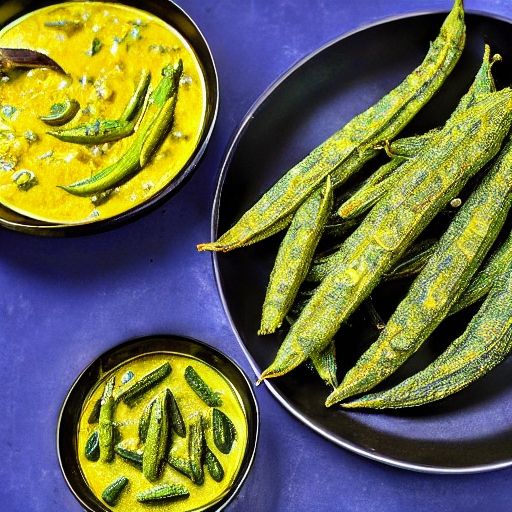 Satisfy Your Cravings with Delicious Bhindi Kadhi Recipe
Are you looking for a unique and flavorful way to enjoy okra? Look no further than Bhindi ki Kadhi - a delicious and tangy dish that is sure to impress your taste buds. Bhindi is a low-calorie vegetable that is high in fiber, antioxidants, and vitamins, making it beneficial for digestion, blood sugar control, and immune function.
Ingredients:
1 1/2 cups ladies finger (bhindi) , cut into 25 mm. pieces
1 tbsp oil
2 cups fresh curd (dahi)
5 tbsp besan (bengal gram flour)
2 tsp ghee
1/2 tsp cumin seeds (jeera)
1/2 tsp mustard seeds ( rai / sarson)
2 pinches of asafoetida (hing)
5 curry leaves (kadi patta)
1/4 tsp turmeric powder (haldi)
salt to taste
1 tsp ginger-green chilli paste
2 tbsp sugar
For The Garnish:
2 tbsp finely chopped coriander (dhania)
For Serving:
Cooking Time:
37 mins
Method:
To make bhinda ni kadhi, heat oil in a broad non-stick pan and add the bhindi.
Sauté on a medium flame for 3 to 4 minutes. Transfer to a plate and keep aside.
To make kadhi, combine the curds and besan in a deep bowl and whisk well till no lumps remain.
Add 3 cups of water and mix well and keep aside.
Heat the ghee in a deep pan and add the cumin seeds and mustard seeds.
When the seeds crackle, add the asafoetida and curry leaves and sauté for a few seconds.
Add the prepared curds-besan-water mixture, turmeric powder, salt, ginger-green chilli paste and sugar, mix well and bring to a boil for 2 minutes, while stirring continuously.
Reduce the flame and simmer for 8 to 10 minutes, while stirring occasionally.
Just before serving, bring the kadhi to boil. Add the sauteed ladies finger. Mix well and simmer for 5 minutes.
Garnish the kadhi with coriander and serve hot with steamed rice.
Tips/Precautions:
Make sure when you boil the kadhi you do stir it in between or it will curdle.
Bhindi should not be chopped finely or very big, just medium sized.
Add the bhindi just before serving the kadhi.
Health benefits:
Bhindi ni Kadhi is rich in fiber and antioxidants, promoting digestive health and reducing inflammation. The dish also contains yogurt, which is a good source of protein and probiotics, aiding in maintaining a healthy gut microbiome and improving immune function.