Cabbage Carrot and Lettuce Salad Recipe
by Bewild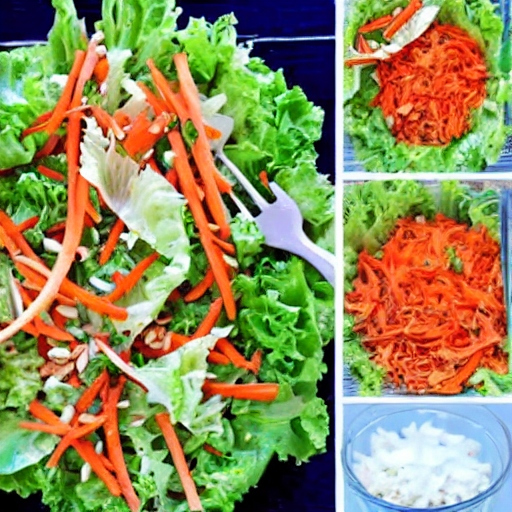 Crunchy Garden Salad: Cabbage, Carrot, and Lettuce Delight
This refreshing cabbage, carrot, and lettuce salad is the perfect balance of crisp and crunch, with a zesty dressing that will awaken your taste buds. Lettuce is a low-calorie leafy green vegetable that is rich in vitamins and minerals and may help improve digestion, lower inflammation, and promote heart health.
Ingredients:
1 cup shredded cabbage
1 cup coarsely grated carrot
1/2 cup shredded lettuce
1/2 cup orange segments
1/4 cup chopped coriander (dhania)
1/2 tsp black salt (sanchal)
salt to taste
Cooking Time:
15 mins
Method:
To make cabbage, carrot and lettuce salad combine all the ingredients together in a deep bowl and toss well.
Serve immediately.
Tips/Precautions
If you want to make the salad in advance, then add the back salt and salt just before serving.
Health Benefits:
Cabbage carrot and lettuce salad recipe offers a multitude of health benefits. It's an excellent source of fiber that promotes digestive health and helps maintain a healthy weight. The ingredients are rich in antioxidants that can lower the risk of chronic diseases such as cancer and heart disease. Lastly, the combination of vitamins and minerals present in this salad can improve your overall immune system and support healthy skin and hair.