Cherry Tomato and Feta Salad Recipe
by Bewild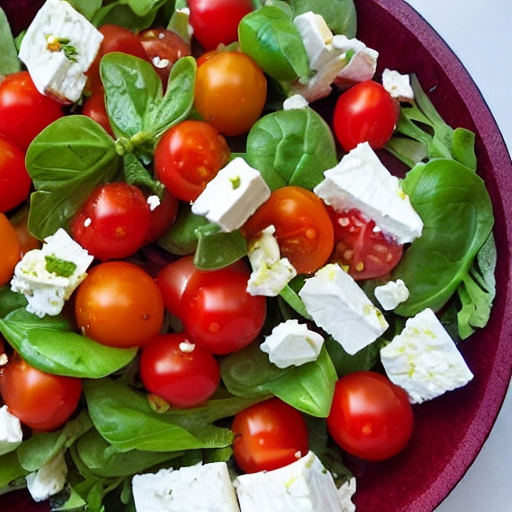 Cherry Tomato and Feta Salad: A Burst of Flavor in Every Bite
Fresh cherry tomatoes and tangy feta cheese come together in this easy and delicious salad recipe. Cherry tomatoes are a great source of antioxidants, vitamin C, and potassium, all of which promote good health and help reduce the risk of chronic diseases.
Ingredients:
For Cherry Tomato and Feta Salad
1 1/2 cups cherry tomato halves
1/3 cup feta cheese cubes
To Be Mixed Into A Dressing
2 tsp extra virgin olive oil
1 tsp lemon juice
1/2 tsp soy sauce
1/4 tsp sea salt (khada namak)
freshly ground black pepper (kali mirch) to taste
Other Ingredients For Cherry Tomato and Feta Salad
dried oregano to sprinkle
Cooking Time:
10 mins
Method:
Make a dressing of extra virgin olive oil, lemon juice, soy sauce, sea salt, and freshly ground black pepper.
Mix well. Taste and make changes if required to adjust to your taste. Keep aside.
In a bowl put cherry tomatoes and add feta cheese cubes. Cover with cling wrap and chill in fridge till you serve.
Just before serving add the dressing to the cherry tomatoes and feta and toss well.
Sprinkle oregano evenly over it and garnish with basil leaves.
Serve cherry tomato and feta salad immediately.
Tips/Precautions
Make sure you serve it immediately as the dressing settles down after a while.
Health Benefits:
This cherry tomato and feta salad recipe is packed with antioxidants, vitamins, and healthy fats that promote heart health, boost immunity, and support overall well-being.