Cherry Tomato and Methi Salad
by Bewild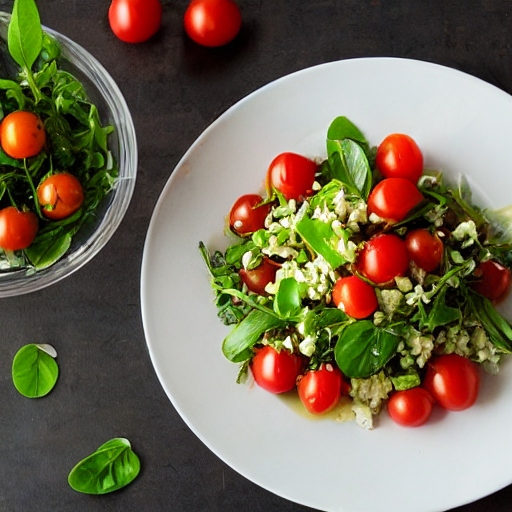 Zesty Greens: Tangy Cherry Tomato and Methi Salad
Looking for a delicious and healthy salad that's bursting with flavor? Look no further than this delightful Cherry Tomato and Methi Salad! With the sweet juiciness of cherry tomatoes and the slightly bitter taste of methi leaves, this salad is the perfect balance of flavors. And with its easy-to-prepare recipe, it's the perfect choice for a quick lunch or light dinner.
Cherry tomatoes are low in calories, high in fiber and vitamin C, and contain antioxidants that may help reduce the risk of chronic diseases.
Ingredients
For Cherry Tomato and Fenugreek Salad
1 cup cherry tomato halves
1/2 cup chopped baby fenugreek leaves (methi)
1/2 tsp finely chopped green chillies
To Be Mixed Into A Dressing
1 tsp extra virgin olive oil
1/4 tsp lemon juice
salt to taste
Cooking Time
10 mins
Method
To make cherry tomato and fenugreek salad, combine all the ingredients in a deep bowl, add the dressing and toss well.
Serve cherry tomato and fenugreek salad immediately.
Tips/Precautions
Serve this salad as soon as it is tossed, otherwise it will become watery.
Health Benefits
Cherry tomato and methi salad is a nutrient-packed dish that provides a range of health benefits. Tomatoes are rich in antioxidants, while fenugreek (methi) is a good source of vitamins and minerals, including iron and calcium, which are essential for maintaining healthy bones and preventing anemia. The combination of these two ingredients may also aid in weight management, improve digestion, and promote healthy skin and hair, making this salad a delicious and beneficial addition to any diet.