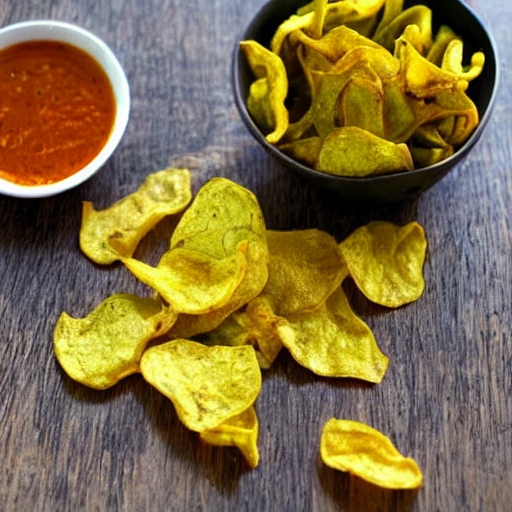 Bitter Gourd Chips: A Unique and Healthy Twist to Regular Snacking
Bitter gourd is packed with essential nutrients and antioxidants that can help improve blood sugar levels, boost immunity, and promote healthy digestion. Are you looking for a healthy and delicious snack option? Have you tried karela chips yet? we'll explore the benefits of karela chips and share an easy recipe for making them at home. Bitter gourd is a rich source of nutrients and antioxidants that can potentially help lower blood sugar levels and improve overall health.
Ingredients:
2 cups thinly sliced bitter gourd (karela), unpeeled
1 tsp salt
1/2 cup besan (bengal gram flour)
1/4 cup rice flour (chawal ka atta)
1 tsp chilli powder
1/4 tsp turmeric powder (haldi)
1/2 tsp chaat masala
1 tsp hot oil
Oil for deep-frying
Cooking Time:
40 mins
Method:
Combine the karela and salt in a deep bowl and mix well with your hands.
Cover with a lid and keep aside for 30 minutes.
Remove all the excess water by squeezing it very well between your palms.
Add all the other ingredients and 2 ½ tbsp of water and mix very well or till the karela coats the masalas well.
Heat the oil in a deep non-stick pan and deep-fry a few karela slices at a time on a medium flame till they turn crispy and golden brown in colour from all the sides. Drain on an absorbent paper.
Cool slightly and serve or use as required.
Tips/Precautions
The karela must be sliced using a slicer and not a knife, to get uniformly thin slices.
Since we are already marinating the karela slices in salt, do not add more salt when mixing the spices and flours.
Consume them within 3 to 4 hours.
Health Benefits
Karela chips are packed with nutrients like vitamin C, folate, and potassium. They're also a great source of dietary fiber and have been shown to improve blood sugar control and support weight loss.