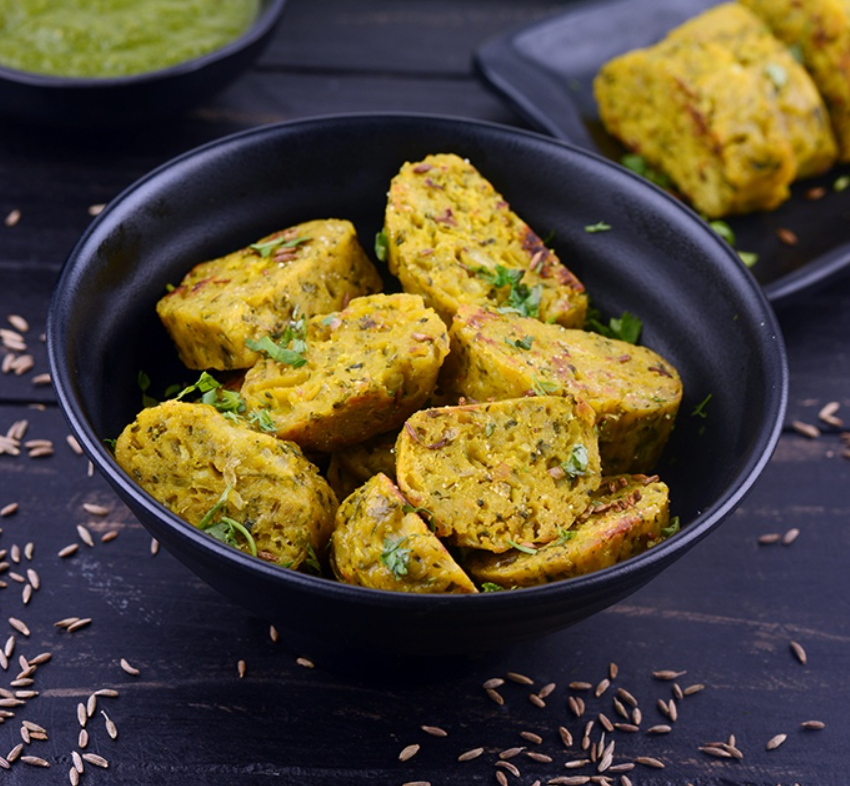 Bite into Health with Karela Muthia - A Delicious and Nutritious Snack
Are you looking for a healthy and delicious snack that's also easy to make? Look no further than karela muthia! These flavorful and nutritious dumplings made with bitter gourd and other ingredients are a popular dish in Indian cuisine. Bitter gourd is a rich source of nutrients and antioxidants that can potentially help lower blood sugar levels and improve overall health.
Ingredients:
For Karela Muthia
1/2 cup grated bitter gourd (karela) , unpeeled
1/4 cup finely chopped onions
1 1/2 tsp finely chopped garlic (lehsun)
1 tsp ginger (adrak) paste
1 tsp finely chopped green chillies
1 tbsp finely chopped coriander (dhania)
1/2 tsp turmeric powder (haldi)
1 tbsp low fat curds (dahi)
1/4 cup whole wheat flour (gehun ka atta)
1/4 cup jowar (white millet) flour
1/2 cup besan (bengal gram flour)
salt to taste
For The Tempering
1 tsp oil
1/2 tsp cumin seeds (jeera)
1/4 tsp asafoetida (hing)
For The Garnish
1 tbsp finely chopped coriander (dhania)
Cooking Time:
28 mins
Method:
Combine all the ingredients in a deep bowl, mix well and knead into a soft dough using little water.
Divide the dough into 2 equal portions and shape each portion into a cylindrical roll of 150 mm. (6"") in length and 25 mm. (1"") in diameter.
Steam the rolls in a steamer for 15 minutes or till the knife comes out clean.
Cool slightly and slice the muthias into 12 mm ( ½") pieces and keep aside.
How to proceed
For the tempering, heat oil in a broad non-stick pan and add the cumin seeds.
When the seeds crackle add asafoetida and sauté on a medium flame for a few seconds.
Add the muthia pieces, mix well and cook on a medium flame for 1 to 2 minutes.
Garnish with coriander and serve hot with green chutney.
Tips/Precautions
While grating the bitter gourd, start grating without peeling and avoid including the white portion and seeds inside it.
Instead of karela you can also use mooli, doodhi, methi etc.
For non-diabetics, you can add 1 tbsp sugar in the dough.
Health benefits
Weight-watchers and heart patients too can add this diabetic snack recipe to their menu and benefit from the fiber it lends by way of addition of healthy flours like jowar flour, besan and whole wheat flour. These muthias will keep them satiated for a long time, while also adding B vitamins, magnesium, phosphorus and potassium to their diet.