Lettuce Salad with Honey Ginger Dressing
by Bewild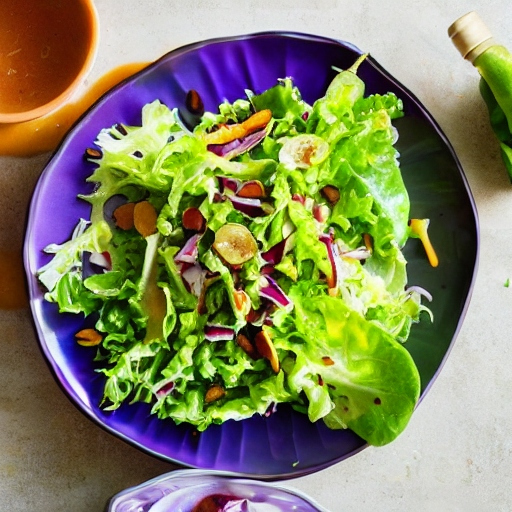 Garden Fresh Greens: Lettuce Salad Delight -Zesty Twist with Honey Ginger Dressing
Looking for a refreshing and nutritious salad? Look no further than this delicious lettuce salad with a sweet and tangy honey ginger dressing. Packed with fresh greens and topped with a zesty dressing, this salad is the perfect addition to any meal.Lettuce is low in calories and high in fiber, making it an excellent choice for weight management and digestive health. Additionally, it contains vitamins and minerals such as vitamin K, vitamin A, and folate that support bone health, vision, and red blood cell production.
Ingredients:
1/2 cup chopped orange segments
1/2 cup muskmelon (kharbooja)
1/2 cup chopped grapes
2 cups lettuce , torn into pieces
1/2 cup chopped cucumber
2 tbsp roasted almonds (badam) slivers
To Be Mixed Into A Honey-ginger Dressing:
3 tbsp honey
2 tsp ginger (adrak) juice
1 tsp lemon juice
salt and freshly ground black pepper (kalimirch) to taste
Cooking Time: 25 mins
Method:
Combine all the ingredients in a bowl and mix well.
Just before serving, pour the dressing over the salad and toss well.
Health Benefits:
This lettuce salad with honey ginger dressing is a great way to add essential vitamins, minerals, and fiber to your diet. Lettuce is low in calories and high in antioxidants, while ginger has anti-inflammatory properties that may help with digestion and immunity.