Mooli Ka Salad Recipe
by Bewild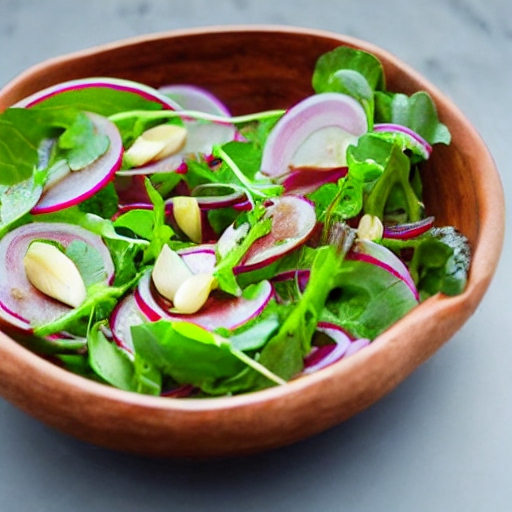 Refreshing Radish Delight: Mooli Ka Salad Recipe
Are you looking for a fresh and healthy salad recipe to add to your repertoire? Look no further than this delicious mooli ka salad recipe! Packed with nutrients and bursting with flavor, this dish is sure to become a favorite in your household.Radish is a low-calorie root vegetable that is high in vitamin C and fiber, making it great for digestion and boosting the immune system.
Ingredients:
1 cup thickly grated radish (mooli)
1/4 tsp garlic (lehsun) paste
1/2 tbsp lemon juice
1/2 tsp finely chopped green chillies
1/4 tsp split mustard seeds (rai na kuria)
1 tsp chopped coriander (dhania)
salt to taste
Cooking Time:
5 mins
Method:
To make mooli ka salad, combine all the ingredients, except the salt, in a deep bowl. Cover with a lid and refrigerate for at least 30 minutes.
Add salt and mix well.
Serve the mooli ka salad chilled.
Tips/Precautions
Grating the radish thickly is a must to enjoy a good mouthfeel.
Radish emits a strong odour. Remember to cover the bowl tightly and or plastic wrap so that the other foods in the refrigerator do not smell like radish too.
Health benefits
The fibre in the mooli can help prevent constipation. Garlic too has antioxidant allicin which has heart protecting benefits.Thus each ingredient in this mooli ka salad has been chosen wisely to suit a weight loss diet. Diabetics and heart patients too can include this nutritious salad as a part of their daily meals.