Mooli Moong Dal Recipe
by Bewild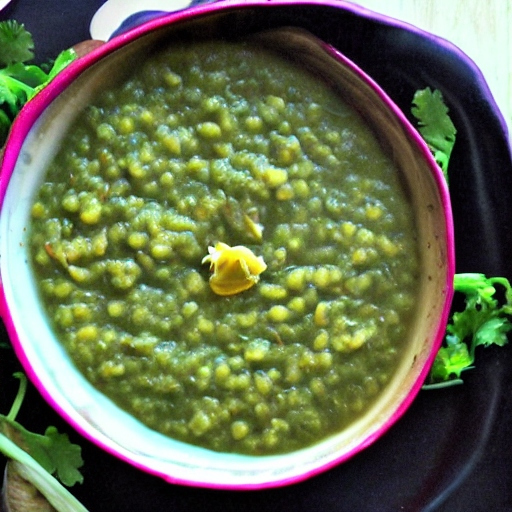 Mellow Mooli Magic: Delightful Moong Dal with a Twist
Are you looking for a quick and easy recipe that is both nutritious and delicious? Look no further than this mooli moong dal dish, perfect for a hearty and healthy meal in just minutes. Radish is a low-calorie root vegetable that is high in vitamin C and fiber, making it great for digestion and boosting the immune system.
Ingredients:
1 cup chopped white radish (mooli) , washed and drained
1/2 cup yellow moong dal (split yellow gram) , washed and drained
1/2 tsp turmeric powder (haldi)
salt to taste
1 tbsp ghee
1/2 tsp cumin seeds (jeera)
1 bayleaf (tejpatta)
2 cloves (laung / lavang)
1 tsp finely chopped green chillies
1/4 tsp grated ginger (adrak)
1/4 tsp asafoetida (hing)
1 tsp chilli powder
1/2 cup chopped coriander (dhania)
Cooking Time: 30 mins
Method:
To make rajasthani mooli moong dal, combine the radish, moong dal, turmeric powder, salt and 2 cups of water in a pressure cooker, mix well and pressure cook for 3 whistles.
Allow the steam to escape before opening lid. Keep aside.
Heat the ghee in a deep non-stick kadhai, add the cumin seeds, bayleaf and cloves and sauté on a medium flame for a few seconds.
Add the green chillies, ginger, asafoetida, chilli powder, cooked radish-dal mixture and ½ cup water, mix well and cook on a medium flame for 2 to 3 minutes, while stirring occasionally.
Add the coriander and mix well.
Serve the rajasthani mooli moong dal hot.
Tips/Precautions
Chop the radish into small pieces and not big pieces.
¼ tsp of garam masala would be a flavour enhancer.
If you are serving the dal later, you might have to add water and adjust the consistency before reheating.
Health Benefits:
The vitamin C in radishes possesses antioxidant and anti-inflammatory properties. The fibre in it is beneficial for the gut and also to achieve your weight loss targets. Moong dal, on the other hand, abounds in protein. The combo of these two ingredients in healthy moong dal with mooli yields a nourishing and wholesome accompaniment which can be served with chapati and a bowl of healthy salad.