Tomato Basil Chutney
by Bewild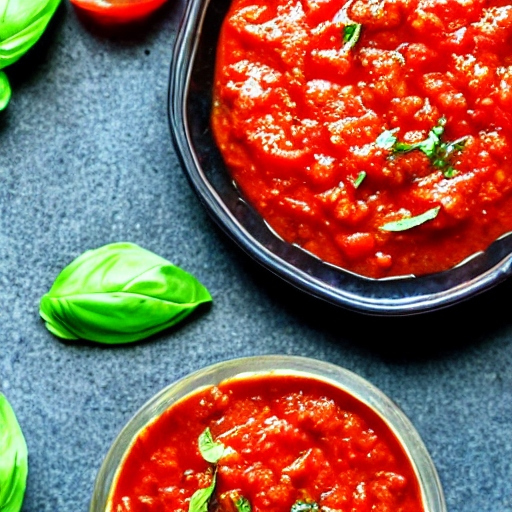 Delightful Twist on Classic Flavors: Tomato Basil Chutney
Are you a spice lover or someone who prefers milder flavors, Tomato Basil Chutney is sure to tantalize your taste buds and leave you craving for more.Basil is rich in antioxidants, anti-inflammatory compounds, and essential oils, making it beneficial for digestion, reducing inflammation, and promoting heart health.
Ingredients:
For The Masala Powder
1 tsp cumin seeds (jeera)
1/2 tsp coriander (dhania) seeds
3 whole dry kashmiri red chillies , broken into pieces
1 tsp mustard seeds (rai / sarson)
1 tsp urad dal (split black lentils)
2 tsp chana dal (split bengal gram)
Other Ingredients
1/2 cup chopped tomatoes
1 cup basil , torn into pieces
2 tbsp tamarind (imli) paste
1 tbsp chopped jaggery (gur)
2 tsp finely chopped green chillies
1/2 tbsp lemon juice
salt to taste
Cooking Time:
15 mins
Method:
Combine all the ingredients in a small non-stick pan, mix well and cook on a medium flame for 5 minutes, while stirring occasionally.
Cool slightly and blend in a mixer to a smooth powder. Keep aside.
How to proceed
Combine the prepared masala powder and all the remaining ingredients and 2 tbsp of water in a mixer and blend till smooth.
Store in an air-tight container and use as required.
Tips/Precautions
If you feel the chutney is very thick, you can adjust the consistency by adding a little water.
It goes very well with starters like tikkis. You can make a batch and store it in the fridge for 3-4 days in an airtight container.
Health Benefits:
Tomatoes are a rich source of lycopene, a powerful antioxidant that has been shown to reduce the risk of chronic diseases such as heart disease and certain types of cancer.
Basil contains several essential oils and compounds that have anti-inflammatory and antibacterial properties, which can help support a healthy immune system and improve digestive health.
Combining these two ingredients into a chutney can provide a delicious and nutritious way to add vitamins and minerals to your diet, as well as improve the flavor and health benefits of many dishes