Tomato Lettuce Sandwich
by Bewild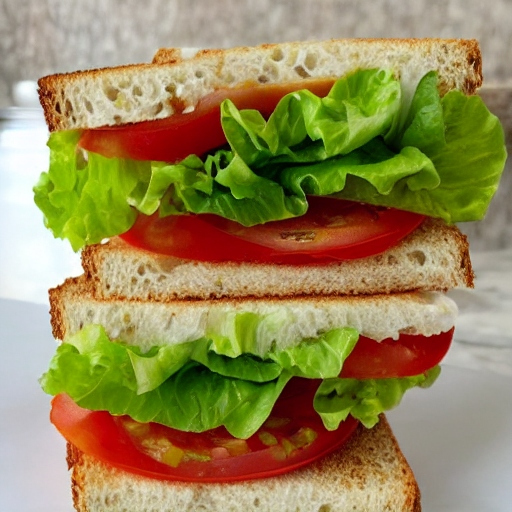 Fresh and Flavorful Tomato and Lettuce Sandwich
This tomato lettuce sandwich is a quick and easy recipe that is perfect for a light lunch or snack. Packed with fresh and flavorful ingredients, it's a delicious way to enjoy the classic combination of tomatoes and lettuce.
Lettuce is a low-calorie leafy green vegetable that is rich in vitamins and minerals, and may help improve digestion, lower inflammation, and promote heart health.
Ingredients:
8 toasted bread slices
16 tomato slices
4 lettuce leaves
salt and freshly ground black pepper (kalimirch) to taste
To Be Mixed Into A Spread:
1/4 cup cheese spread
1/4 cup eggless mayonnaise
1 tsp grated garlic (lehsun)
1/4 cup finely chopped spring onions with greens
salt and freshly ground black pepper (kalimirch) to taste
Cooking Time:
5 mins
Method:
To make tomato lettuce sandwich, take 2 toasted bread slices on a clean, dry surface.
Apply 1/4th of the prepared spread evenly over one toasted bread slice.
Place a lettuce leaf on another toasted bread slice, put 4 tomato slices and sprinkle salt and pepper evenly over it.
Sandwich with the spread side toast facing downwards and press it gently.
Cut diagonally into 2 equal pieces.
Repeat steps 1 to 5 to make 3 more sandwiches.
Serve the tomato lettuce sandwich immediately.
Tips/Precautions:
Instead of white bread you can also use brown bread.
Combination of the cheese spread and lettuce tastes amazing.
Keep the lettuce leaves in ice cold water to maintain the crunch.
Instead of cheese spread you can also use grated cheese.
"The go-to snack recipe Indian style lettuce tomato sandwich served immediately with hot coffee makes the perfect combination to satisfy your hunger!
You can serve a classic toasted tomato sandwich as an after school snack to your kids, and they will surely love the juicy and cheesy taste."
Health Benefits:
"This sandwich is packed with vitamins, antioxidants, and fiber from the lettuce and tomato, making it a healthy and satisfying meal option."