Walnut and Cherry Tomato Salad
by Bewild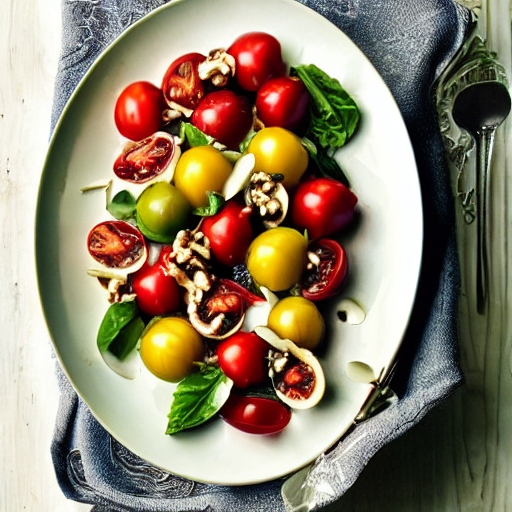 Delight Walnut and Cherry Tomato Salad
This refreshing salad combines the nutty flavor of walnuts with the sweetness of cherry tomatoes for a delicious and healthy dish. Cherry tomatoes are a great source of antioxidants, vitamin C, and potassium, all of which promote good health and help reduce the risk of chronic diseases.
Ingredients:
2 cups cherry tomatoes, cut into halves
1/4 cup roughly chopped walnuts (akhrot)
1/4 cup chopped capsicum
1/2 cup basil leaves, torn into pieces
2 tsp roasted sesame seeds (til)
To Be Mixed Together Into A Dressing:
2 tsp olive oil
2 tsp honey
1 tsp lemon juice
salt to taste
Cooking Time:
10 mins
Method:
To make walnut and cherry tomatoes, combine the cherry tomatoes, walnuts, capsicum, basil leaves, and sesame seeds in a bowl.
Add the dressing and toss well.
Serve the walnut and cherry tomato salad immediately.
Tips/Precautions:
If you wish, you can also add roasted sunflower seeds and roasted pumpkin seeds.
If you wish to carry the salad to work, you can carry the dressing in a small container separately and toss just before eating.
Health Benefits:
This 10 minute tomato walnut salad has a perfect crunch and is a treat for tomato lovers. Not only is it an excellent source of folic acid (vitamin B9) which keeps anaemia at bay, but also rich in lycopene. Sesame seeds add crunch to this salad, while adding appreciable amounts of calcium.
By way of healthy Indian cherry tomato salad with walnuts, you can reap the benefits of walnuts too! Walnuts are also rich in vitamin E and omega-3 fatty acids which are considered to be a good source of fat. These are great brain boosters. They also help in adding glow to your skin, reducing inflammation and warding off harmful free radicals in the body.
The healthy Indian cherry tomato salad with walnuts can be enjoyed by heart patients and weight-watchers. Diabetics too can relish this salad, but without the addition of honey. With 2 g of fiber per serving, this salad will help in managing blood sugar and blood cholesterol levels.